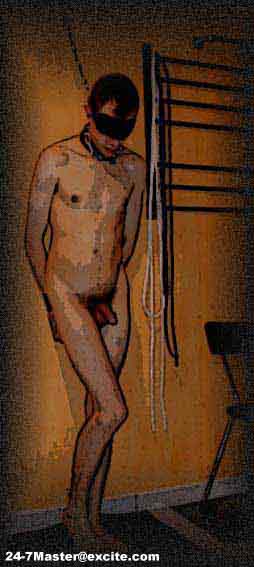 I am a 44 year old Master, living in the medieval town of Brugge (Belgium).

Being gay and dominant, I like having slaves around the house.

These slaves are consenting but submissive male adults who want to be treated like, and trained into obedient slaves.

Being a slave for two or three hour session, makes for a nice role play. Being a slave 24 hours a day, 7 days a week, changes a hot role playing game into a life style.

This website gives my personal view on the relation between a Master and his 24/7 slave.

It is also a means to find men with the same interest in gay BDSM and to attract a temporary or permanent 24/7 slave.

By the way, the pictures on this website are all home (dungeon ;-) made. Don't spread them all over the internet. Rather pass a link to this site to your friends. Thanks.

If you want to be informed about updates and added pictures, check the entrance to the gallery (click the Pictures button on the left) and submit your email address.