Welcome to nude gay beach guide of fabulous Croatia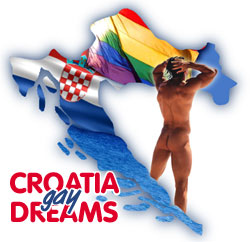 This website has descriptions and photos of popular and less popular naturist or nudist gay beaches in Croatia, plus some other information of interest for gay traveller to Croatia.
People visit nude beaches for many reasons, including because they enjoy being nude or partially nude, because they enjoy looking at people who are nude, because they are exhibitionists, because of curiosity, because of personal philosophy, or simply because they believe that there is no reason to wear clothing.
Gay people are no different.
Whatever your reson is, you are welcome here.
You will find here a great selection of beaches permitting nude sunbathing throughout Croatia, including Dubrovnik, Hvar, Rovinj, and many other places.

Gay Watch: Croatia

A onetime Yugoslav republic embraces equality via one of Europe's most sweeping sets of LGBT rights laws. It's a shame too few of its gay citizens are out enough to put them to use much. The whole article here.
---
Travel: Croatia


A leisurely island-hopping holiday is a great way to discover Croatia's unspoilt beaches and historic towns. HELEN SANDLER and her girlfriend packed their rucksacks.
Monika and Silvie, fans of nude sunbathing, were on their second visit to Croatia's many naturist beaches.
The whole article here.
---

"My 'insider tip' at present is Croatia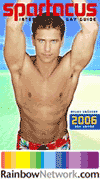 For over 35 years the Spartacus International Gay Guide has proved to be the reliable companion for holidays and business trips for gays around the world. Briand Bedford, Spartacus' editor in chief, gave an interview to RainbowNetwork.com where he predicts Croatia to become next big thing in worldwide gay travel. Read the whole story here.

---
Croatia a travel hotspot for gay travellers


Houston Voice recently picked ten new and old travel hotspots around the world for gay people, among them the Dalmatian coast. "Touring the coast of Croatia along the Adriatic Sea offers the gay traveler something unique, says Nicholas Sempetti, owner of gay travel resource, Postcard Destinations. "Gays being such great travelers they've been to a lot of places," he says. Many people cruise down the picturesque coastal towns, full of historic architecture and art, making their way to the city of Dubrovnik and the country of Slovenia."


This site contains material, photos and/or links to other material that is not suitable to persons under 18. If you are uncomfortable with homosexual themes, please leave the site. Else, proceed at your own risk.
What's new?

Latest addition to the web site can be found
here
on the message board.
Have questions, want to meet other fellow travelers? Post your messages on Croatia Gay Travel forum!