Nude beach near Banculuka nudist camping located at the southeast end of the island near Baska town (www.tz-baska.hr).
The coast is mostly rocky with several beautiful pebble coves. The beach can be reached by foot from the center of Baska (about 15 minutes walking).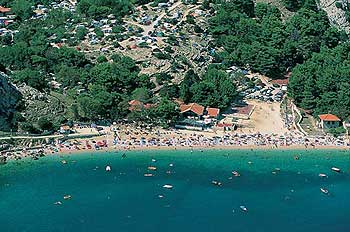 The naturist camp Bunculuka is located in the beautiful gulf between two hills, which are characterized by the uncontaminated nature. Camping is situated only 15 minutes of walking from popular summer resort Baska.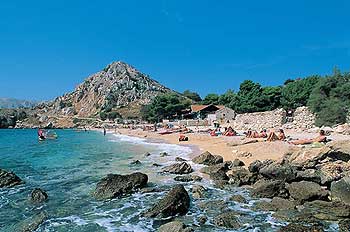 The beach in Banculuka is pebbly with beautiful small pebbles. This beach can be very crowded with guests from the camping but also with one-day guests.
More interesting are beaches located after the camping. First comes Jablanova cove, then Mali raj, Mala Vrzenica cove and finally Vela Vrzenica cove. These are all beautiful pebbly nudist beaches. It is difficult to tell which one is the most beautiful one. There are no facilities at any of them so bring everything you need. In 2005 there were deckchairs and parasols available to rent on Jablanova, Mala and Vela Vrzenica caves.
For gays the most interesting is Vela Vrzenica which attracts some gay men and is the biggest beach. There is also a pine forest where you can hide against heat or take a rest in the shadow.
Gay section is, as usual, at the end of the Vela Vrzenica cave, where pebbles are a bit larger and approach to the water is not pleasant without some sort of plastic footwear.
After Vela Vrzenica there is an area sometimes busy with cruising and if you continue walking you will reach secluded coves of Dubna and Konjska, which are usually visited only by boat owners and are more than one hour of walk away from Banculuka camping.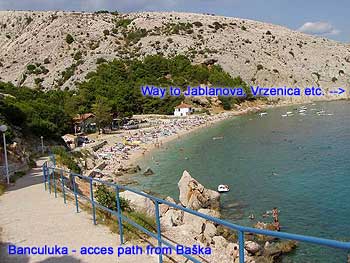 To reach Banculuka and other mentioned beaches you have four options.
1. By car
At the entrance to Baska there is a crossroad with signs to Baska's centre and FKK Banculuka. You can drive all the way to the entrance of the camping and park your car there. The parking is charged 25 Kunas for the whole day (in 2005). Then you walk to the main entrance to Banculuka camping (Reception) where they charge you another 10 Kunas per person for a whole day stay in the camping. After entering the camping, walk down to the camping's beach, turn left and keep walking along the coastline path that will get you to other beaches.
The path is narrow and steep that leads you across the (sometimes high) cliffs above the sea. You can walk all the way completely naked if you like (many people do so), but you have to wear some good walking footwear. Flip-flops are definitively no-no, because on cliffs it can be dangerous.
2. Walking from Baska
If you stay in Baska or you don't feel like paying 25 Kunas for parking, you can park your car somewhere in Baska and then walk along the coast. From Baska's centre walk toward the port (East of the centre). By the end of the port you will see the sign that will lead you to FKK Banculuka camping. Asphalt road will bring you the the entrance of the camping where there is a person charging 10 Kunas per person the entrance, but you can tell him that you just want to walk through the camping to reach other beaches. After he lets you in, walk along the Banculuka's nudist beach and fallow the coastal path.
Distance from Baska's centre to Banculuka camping is about 1km and there is another cca. 2km from Banculuka to Vela Vrzenica cave. If you get tired or hot under the sun you can always take a swim somewhere along the way, on cliffs or in one of mentioned coves before Vela Vrzenica.
3. Taxi Boat
Small taxi boats taking sunbathers to Vrzenica and other beaches leave from Baska's port, but there are very few of them and they are usually overcrowded.
4. By boat or kayak
You can rent a small motor boat or a kayak in Baska and drive or paddle yourself to Vrzenica and other beaches.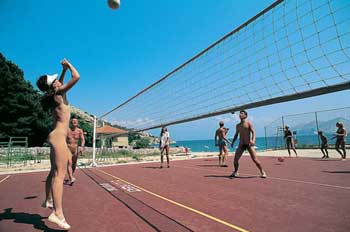 If you like nudist camping, you can even stay in Banculuka. You can build your tent on unusual places, like high in the hill or even in front of rocky caves. There is a restaurant in the camp and food is pretty good there. They have also a small market, kiosk with fast food, a newsstand and courts for tennis, volleyball and mini golf.