Brother, Have We Got Problems (tf)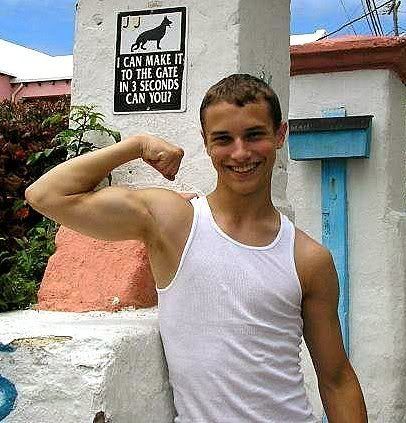 Well, I had to do something. The whole fraternity was coming apart. People were forming their own little groups inside the frat and it was really obvious. Guys were going out of their way to be asses to each other, and I even had to break up something that was about 3 seconds away from becoming a fist fight. That wasn't easy; even though I'm kinda the unofficial leader, its hard for me to really get into it with my brothers. I'm 5'6, and about 150 lbs. of lean muscle and a big brain, from wrestling and academic decathlons. Most of the guys in my frat are around 6'2 and played football or La Crosse in high school. Don't ask me why they look up to me; they just do.
I knew the chapter couldn't survive much longer unless something changed. So I called my best friend. We were those two guys in high school who people coulda called gay, 'cause of all the time we spent with each other, but weren't, 'cause of all the times that people saw us try with the ladies and then get shot down. We said we'd keep in touch after graduation, and unlike everyone else that says that, we actually did. So I told him about my problem. The frat was messed up; brother against brother kinda messed up. He told me his own frat had gone through something like that. He told me there was this camp up in the mountains. His frat spent the weekend there, and they came back closer than ever. Now, they really understood the term "brother". He told me any one of these guys would take a bullet for him, and he would for them. He told me that people go up there and come back changed. You get to really see who you are, who your friends are inside, and you bond with them real fast. Between you and me, I was kinda jealous that he had buds that close, and that I wasn't one of them anymore.
It looked like my only option.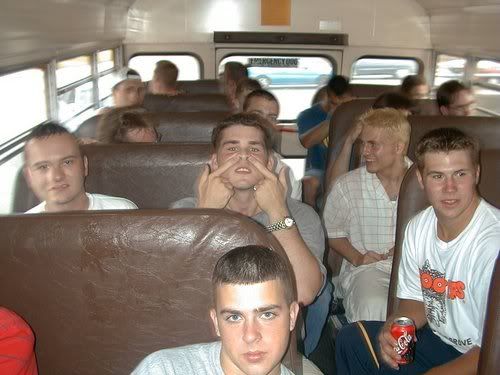 We had some cash saved up in case of some kinda house emergency, like a fire or problems with the electricity or roofing. I figured the breaking up of the frat was a pretty big emergency and got the money out. I called up the camp and told them my problems. It was the week before summer vacation, and none of the guys were taking summer quarter, so that Friday morning we were all on our way up to the mountains. They even had their own bus come down and pick us all up. The ride up was great. We were all getting along again and I saw some guys talking to each other who I know hadn't spoken in awhile. Oh, there's a picture of me at the front gate. I thought the sign was weird when I got there, 'cause I couldn't see or hear any dogs anywhere.
When we got there, we all set up in these huge communal tents. The people running the camp said that close contact was important for us to bond. They also told us clothes was optional, since it was all guys, we were all in the same frat, and most of us had been athletes in high school so nudity shouldn't be a big deal, and 'cause it would make us all equal or something. Some of the frat brother's looked nervous, but eventually we all settled on walking around in our boxers. The camp had us doing all these strange, but pretty fun games outside, I don't know, they called it like, trust exercises or something. A lot of it was pretty physical and our boxers started to rip up and get dirty and sweaty. By lunch time we had all ditched our boxers and were walking around without a shred of clothes on. It felt good to just be naked with your buds; we were really starting to come back together.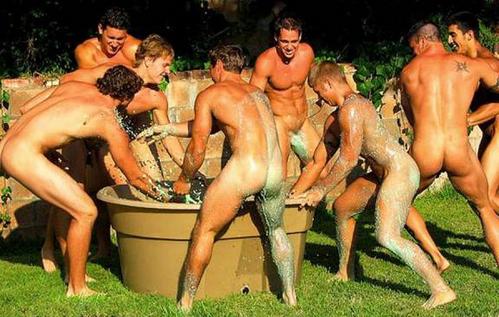 Lunch looked real good. All the dudes had like, three plates of food each, 'cause of all the work we'd been doing that morning. I bet it woulda tasted good, too, 'cept the doctor who ran the place asked to see me just as I was about to dig in. He told me that after lunch, our next exercise would be pretty intense, and some of the brothers might get upset by them, but not to worry. He said it would really bring us closer in the end.
By the time I came back lunch was over, but I got lucky. I was able to snag a sandwich and a coke, and I had them on the way out to the field. The next teamwork thing was a relay race. We had to divide up into four teams and carry these huge vats back and forth, without spilling any of the green stuff that was inside. It kinda reminded me of that slime on that kid's show I used to watch back when I was little. We did it about four times, with each team winning once. It was pretty much impossible to not spill any of the slime, so by the end of it, our hands, arms, feet and lower legs were pretty disgusting looking. The teams had been made up of guys who really weren't that close, but when it was done, everyone was talking and joking around.
One of the dudes started checking out the slime. It was a dude named Kent. One of his buds, Colin, dared him to taste it and he went right for it; he said it tasted like almond jello, right as he flung a handful of the goop at his friend's chest. It was about 2 seconds until the ooze was flying everywhere. The slime got all over the place; it was in our hair, our eyes, all over our skin, and I knew I had swallowed some. Some of the dudes even started wrestling in the pools of the stuff that were forming on the grass. It was pretty fun. After about half an hour our slime fight started to slow down. I think it woulda lasted longer, but the vats started to run dry. So, we all just relaxed on the grass, with the slime sticking to us, and mixing around with our sweat. I thought back to what the doctor had said, and I couldn't see how a relay race or even the unplanned slime fight was gonna upset anyone.
It was like, ten minutes after that, that Kent started getting teased by the other dudes. He was lying on his back on the grass, when his bud noticed his start-up boner. Colin laughed and pointed and said Kent was being turned on by that green shit. He wasn't being a dick about it or anything, so everyone joined in. Still, there was no way around it, the guy was plumping up, and some of the brothers were getting uncomfortable. The dude sat up and started playing with it as a joke, pulling on it and waving it at guys, but after the first few tugs, I could tell he wasn't playing anymore, he was really getting into it. Kent lied back down on the grass, spread his legs out, and started using both hands on his tool; dude was loud, too. Guys who didn't notice before, totally noticed now. What happened next really creeped me out. Colin told him to stop, that it was getting weird, but Kent just looked back at his with this extreme look in his eyes, and started grunting and moaning and pounding his cock harder. It was the look in his eyes, like he couldn't give a shit about anything else but his cock. His bud stood up from him and yelled "Stop, man! It isn't fucking funny anymore!" For a second I thought the guy would come out of it. Kent stopped and looked up at his friend. I saw where he was looking. His friend's cock was pointing out and away now, too. I looked around and bunch of other guy's meat was starting to grow. I looked down at my own and saw it get fat and thick. The last words I heard were from Colin, mumbling out "Oh, fuck, dude…". I heard his body fall on the grass and heard the sounds of all my brothers' hands flying up and down poles.
We all just started concentrating on our own cocks. It was like my hands were stuck to my cock; I couldn't stop jerking it, I didn't ever want to stop jerking. I could hear the brothers around me all grunting, moaning, and making sounds. I managed to look around again. I tell ya', I never thought that taking my eyes off my own cock would be so hard, but at that second, it was. I saw Kent really sweating it out, pumping his hips into his hands as they slammed back down against his body. He started bending forward with his tongue out, like he was gonna try to suck himself off. There was no way he was gonna make it, but I saw him get closer each time he tried.
Its weird. Now, when I think back on it, you know what I remember most? I remember thinking to myself that it was interesting that every guy makes different noises when they're jerking it. Like I said, weird. Anyways…
The slime was sticky and running all over our bodies with our sweat. It was really thick in our hair; on our heads, our chests, our arms and legs, and all over pubes. Most of us tried using it as lube for our cocks. It worked great, but made us even more into jerking off than before.
I looked back at Kent, with Colin right beside him, both of them now trying to stick their own dicks in their mouths. Kent was a lot closer now. I noticed the slime was everywhere, I couldn't tell if it was because it was mixing with out sweat, or if we we're just rolling around in the slime that as already on the ground, but it was thick, and all over Kent and Colin. They seemed to have more slime on them than anyone else, their hair was covered with the shit. It was thick like shampoo or hair gel. It was all over their dicks and in their bushes, and traveled up all over their stomachs and chests, up to their necks and faces. I wasn't really surprised at Kent, he was a pretty hairy dude, but Colin had been pretty smooth. After all, I had just spent the morning naked with the guy, but here he was now, with a damn shag carpet running from the top of his ass, down and under his balls, and all the way up to his nose.
Kent was making really weird noises now, he wasn't grunting or moaning anymore, he was kinda, whining and panting. He stuck his tongue out and I saw the thing lick his cock head. The size and length of his tongue was impossible; it was huge now. I saw Colin manage the same thing. On the next try they both managed to get their tools in their mouths. I could hear other dudes start to whine and slurp as they slipped their cocks in-between their lips. I was freaking out, here we were, a bunch of horny, but very straight, and half decent looking frat boys, lying around in a big pile sucking our own dicks like it was the most important thing in the world. Right after I thought that, I realized my own cock was about 5 inches from my face. The whole time I had been watching my buddies turn into cock-hounds, my own body was doing the same. I couldn't stop myself, I licked it once. I don't even remember what it tasted like, but I knew I needed it. I don't know how long we went on like that; a few dozen guys bent forward, giving blowjobs to ourselves. Even with my cock in mouth, I managed to peek at the other guys. I could barely see any bare skin now, most of us were covered in the slime, and I could see we were all really hairy underneath. I could feel my own chest rug that I knew I didn't have that morning.
Kent was whining really high now, and I saw he had his whole tool in, and his nose was nudging his balls. He rammed his face down on his cock one last time and I could tell he was about to come. The slime all over him started to bubble and grow and as he unloaded into his own stomach. It grew up around him, but I could see he was changing beneath it. His jaw was stretching out and somehow he managed to get his balls in his mouth, too. His ears grew larger, too large and heavy to stay up, and flopped over his sideburns. He was getting smaller, too. His whole body looked like parts of it were caving in on itself His arms and legs got much shorter and thinned out, losing their large muscles, and instead grew thin, long muscles. His whole body seemed to bend a lot easier now as he kept pumping his cock into his mouth. His torso got narrower but his hips and belly looked like someone was stepping on them as they squeezed themselves smaller and thinner. I couldn't see any bare skin, anymore. He was covered in hair. I didn't really get it at first; my brain just couldn't take it.
He was a dog now.
I couldn't believe it; the guy I knew, Kent, who I had seen play football, write papers, and fuck chicks, was now a furry, slime-covered mutt, jizzing into his own snout. I had had real conversation with this guy, he had told me about his problems with his dad, and how much he missed his grandpa who died when he was 15. This guy made pancakes after sex, hated apple juice and never learned to tie his shoes without making two loops first. This was a real person, do you get that? A friend, a man with a soul, and now he was an animal. I saw other guys starting to come and change as the slime grew up and around the, making little mounds of slime with my friends somewhere inside. I felt it hit me; what I had done. I had tried to make things better for all my friends, and now, I might as well have killed them. Their lives were over; their families would never know what happened. Their future was gone. The women they would have married, the children they would have had, all the things they would have done, I screwed it all. Then it came to me, I felt my body get close, and the worst thought came to me. Will they know, will I know, what I used to be? Or am I gonna forget, am I just gonna be a dumb dog? I didn't know which was worse. The first load swirled around my mouth; it tasted weird, like kinda how I expected it to taste, but with the slime there, too. I felt each shot in my mouth and down my throat. I felt my body getting tight, and growing smaller. The slime was growing around me now, blocking out the sunlight. I felt my face push out, as my middle sucked in. I could feel my new tongue slurping at my balls. Now I knew which was better, I hoped and prayed to lose myself. I didn't want to know what I was.
It was quiet. I thought I was gonna lose myself… Then I started to get bored waiting for nothing to happen. I started digging myself out of the slime that had made a little hill on top of me. I finally got out and saw the green field covered with little green slime hills. Every single one of my frat brothers was under one of those hills.
A frisbee went whizzing by and suddenly my whole mood shifted. It was a frisbee! I had to get it! Go! Go! Go!, and off I went after that cheap bit of plastic. I saw the camp staff come out with buckets and tubs of water, doggie toys and treats, and some garden hoses. I found the frisbee and brought back to one of the staff members. He wrestled it outta my jaw and scratched behind my ears and my belly. It felt like a blowjob, but totally without the sex part, it was like, I don't know, innocent, I guess. The guy held up a collar with a name on it, and asked if that was me. It was my name! I barked and jumped. He fastened it around my neck and threw the frisbee out again. As I ran out to catch it in the air I saw the other staff members hosing down the slime hills and dunking the dogs they pulled out into their tubs and cleaning them up. Afterwards, scratching and rubbing them all over and giving them treats. I got the frisbee again and trotted back to my master. Now that was something else. I stopped and couldn't believe I had thought of this stranger as "master". I came back and dropped the frisbee at his feet and walked away to see my brothers. There were collars with names on them being held up to each, and every now and then one of 'em would jump and bark. I guess that's how they figured out who was who. Most of us were labs and retrievers now, a lot of strawberry blonds and goldens, but some other colors and breads were mixed in there, chocolates, blacks and some collies, mostly. I don't know how I knew what colors they were, my eyes couldn't tell me, but something else, I think it was their scent, somehow told me. We were being scratched and given treats and toys, and running and jumping. I padded over to who I thought was Colin and Kent, and tried to talk with them. I tried to bark at them, but nothing seemed to make any sense. I tried to think at them, but still, it was all quiet. That's when things started to make sense. I basically gave up and could kinda just know their feelings. Words weren't there, I just knew their emotions. They we're confused, and kinda sad, but mostly just really confused. One of the staff members came over and started rubbing their bellies. They just laid down on the ground with their tongues out and their tales wagging. Their happiness hit me like when you walk into a house and there's a smell that tells you someone's baking something real good. As the staff members played with them and rubbed them down, Kent and Colin we totally out of it. I could sense it was like having sex, being high, and winning a football game all at once for those two.
I saw the doctor come walking across the field and begin speaking with the staff. I trotted over and jumped alittle, putting my hands… well, I guess they were my paws now, on his chest, looked him the eyes and tried to ask him "why"? The best I could do was tilt my head to do the side and make a little whining noise at him. He patted my head and actually spoke to me like I was human still, "Come on; take a walk with me. I'll explain everything." He looked to the staff members and told them it had been an hour and a half since the slime fight. They seemed to know what that meant. I was really surprised. It had only seemed like 20 minutes to me. The two of us left the field and started to walk back to the tents. I looked back as we left and saw the staff members putting leashes on all my brothers. Something inside me turned on when I saw them being leashed. Before I even knew what I was doing, I was low to the ground with my butt in the air, baring my teeth and growling. My brother's all heard me and turned around to see what was going on. I couldn't understand why they weren't mad, or depressed, or trying to fight off the staff. The doctor leaned down close to me, "Please, just come with me. I'll explain everything to you." I stood back up and stopped snarling. I didn't know what had come over me.
We walked into the doctor's office and he casually motioned for me to sit on the chair in front of his desk. I looked at the chair that was now taller than me. I had to think about how I was gonna get up there and sit, without knocking the whole thing over. I did a quick little jump and stood on all fours on the seat. I slowly turned around and had to remember how I'd seen dogs sit before; back legs on the sides, front legs in the middle. He said, "I know you're confused, and probably upset. The first thing you need to know is; this isn't permanent. Do you understand?" I barked back and nodded my head as a "yes". He continued, "Yes, you and your friends are dogs right now, but you won't be for long. What's happened to you was no accident, obviously. It was my doing, and as you can see, I am uniquely qualified." He waved his hands to the diplomas behind him. It was hard to read with my new eyes, but I could make out the words psychology, sociology, biology, bio-chemistry, and genetics on over half a dozen frames. "See, I tried for years to figure out how to get men to work together, the way we had to, to survive thousands of years ago. I had been funded by businesses, schools, sports teams, and a dozen other organizations and clubs. Even the government was interested in my work. They all wanted me to discover a way for men to be close, to be open with each other and communicate, but retain their independence, whatever they felt made them "real men". That's where the first flaw was. Not in my work, but their own perceptions of a "real man". They all had their own concept of what a "real man" was. They were all wrong. They didn't want men; they wanted animals. They wanted obedient dogs, who would study for them, throw the ball for them, work to the bone for them, and even march to war for them. But people are stubborn. There was always something in my way. Ego, attitude, fear; these things always prevented my work from succeeding. But I'm not like most people. As I've mentioned, I have mastered numerous fields of study, and as such, had numerous methods at my disposal, as well as the knowledge and time to properly combine those methods. It took me years, but I got it. My first success was with a boy scout troop. They went through exactly what you're going through. Of course, all my sponsors were very displeased with the results. They said I had done nothing but create a tight-knit group of dogs; a wild pack that could never be of any use to anyone. That "wild pack" as they called them, are out there with your frat. brothers; playing, washing and caring for them. See, I've stripped away everything that was between your men. Their egos are gone. They know every feeling of their brothers. They know complete and intense emotion now. Have you experienced it yet? The sense of pure happiness or complete sorrow?" I thought back to how I had felt when I thought I was responsible for changing all of my friends, and how happy I was when I went after the Frisbee and was scratched. I knew exactly what he was talking about, and I could read my friends now. There were no lies, or words to get in the way. I just knew what they were feeling. "I can see in your eyes. You do know what I'm talking about. You also showed how much you care about them when you thought they were being harmed; when you saw my people put leashes on them" He said. He was right; I had wanted to defend my pack. I saw someone who I thought was trying to hurt them and my first instinct was to protect them. He went on, "They said I had failed; I think they were just upset I had set out to do exactly what I hap planned on, and they were all hoping I'd fail, and give them the chance to corrupt everything I had worked on." He stood up and walked to the door and said. "Come on, the bus is probably ready by now."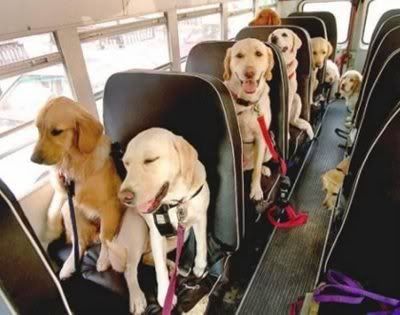 I followed him out as he explained that the food was the first part of the treatment. It had prepped us for the transformation. The race and physical exertion had hurried its progression through out systems, and the slime was the catalyst, whatever that means. I was about to give him another one of my head-tilt whine looks, when he answered the questions that were bubbling inside me. "Yes, I didn't want you to get too much food; you don't need the treatment as badly as some of your other brothers, and as such, your transformation won't be as long lasting as theirs. You already seem to be very in tune with your brothers. They all defer to you as the natural leader even though you are the smallest of them. I've observed you, and the respect is genuine, not forced through fear or anything like that. Ah, the slime fight? Yes, well… How could I be sure that you and your friends would spread the catalyst so effectively on each other? You are a bunch of guys after all. Give you something messy, and naturally, a mess will occur. Those sociology and psychology degrees were earned, after all. That behavior was easy enough to predict. But why take chances? If you hadn't done it, my people had prepared the showers with the same agent." We walked back across the field where a few hours ago a large group of clean cut all-American boys had been having a good time, and where those same boys had transformed into animals. For the better, I guess. The bus was there and rumbling. I could hear dozens of barks coming from inside it. The doctor leaned down and showed me a leash. "Now, I have to put this on, I trust you understand." He said as he clipped it on to my collar and led my on to the bus. He sat me on one of the seats and hooked me into some kind of harness, and that was that. He sat next to me and the bus took off. I had no idea where he was taking us.
My mind couldn't stay focused once the bus started. I knew it was the same for the rest of the guys. Something about being in a car, with the wind all wild, and moving so fast had us all real excited. When the bus finally stopped I looked out the window, and was kinda surprised to find we were back at the frat house. Someone had put up a small white picket fence around the whole property. The doctor leaned down and told me he had had it installed while we were away, along with a few other things. He walked along the aisle and took our leashes off. The bus doors opened and the doctor climbed out and opened the gate to our home. We all rushed in to the yard that we knew was ours, and no one else's. It was sooo good to be home. We knew all the smells here from our old bodies, but as dogs, every scent had a huge new meaning. We stormed the house and went to through the den, the kitchen, the bathrooms and the bedrooms. I knew the second I stepped in, that we had all done chicks in every single room of this house. It kinda made me alittle proud. I could smell beer, pot, and guy-sweat everywhere. The pack just ran from room to room, darting in and out of every little corner, and then back out to the yard, and back inside to compare smells. I guess as people we don't really smell things, but now, we couldn't stop.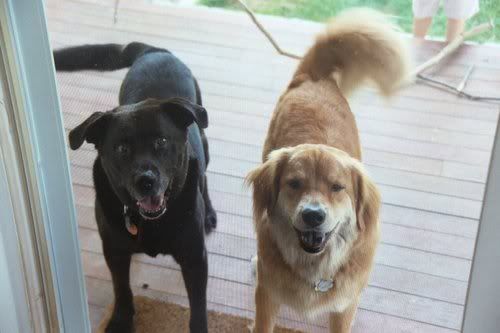 Then I felt something I wasn't prepared for. I didn't want to be the first to do this. I wasn't even sure if I was the first; one of the other guys coulda done it back on the field. I walked outside to the backyard, trying not to get the other guy's attention. One started following me, then another, and pretty soon the whole house had emptied and was standing around me outside. Fuck it! I thought to myself. I'm a dog right? I'll do things like a dog. I walked over to a tree, lifted my leg and started pissing on the tree. I finished up and backed away from it, as the entire pack started sniffing the tree. While they were distracted I felt something else and decided to just do it. I squatted down and felt my insides moving as I took a dump, right there, on my backyard, in front of the whole world. After that I quickly ran back into the house and up to my room. I was alittle ashamed, actually. I climbed up to the window and saw the pack smelling the tree and my little… you know. I climbed onto my bed and fell asleep.
I woke up when I could smell the doctor's scent. He was in the house. I heard only two feet climbing up the stairs and into my room; I was surprised that I had gotten so use to hearing my four-footed brothers running around, that hearing only two feet was weird to me. "How are you doing, everything fine?" he asked as he walked in. I nodded my usual "yes" to him, and moved over so he could sit on the bed with me. He put his hand out over my pelt and asked "May I?". He kept surpising me with how he treated us, even though we really were dogs. We acted like them and now I knew, we ate like them. I could hear my brother's feet scraping against the deck in the backyard, crowding around their food bowls, eating dry dog food. I nodded again, and he began petting me, from my skull and down my back. I shivered alittle, rocked by the sensation of it. It was like he was telling my through his touch that he liked me, that he thought I was a good-boy. Just by petting me he was letting me know I was loved. I never knew anything could feel so much just from a touch. I thought about my own little terrier I had when I was in middle school. I wondered if he felt the same things when I petted him, or when my dad scolded him, if he felt like he was dying. "Time's almost up for you. Don't forget what you learned during all this. You'll be responsible for everyone else. Oh, did you notice; I had all the doors removed, its much easier for you guys to get around." I actually didn't notice before; all the hinges were bare. "Alright, even though you won't be like them, I suggest you do everything like they do; it will keep them from feeling alienated from you. I know you probably don't understand right now, but you will. Well, the day is almost over and I have to get back to the camp. You have our office number if you need any help, fell free to call us, when you're actually able to use a phone again, that is." He got up off my bed and walked out of my room. My ears followed him all the way down as he petted and scratched my brothers on his way out.
I was hungry now. I got off my bed and went down the stairs and outside to the food bowls. It smelled like dog food, but now the smell was great. I bent my head down and started chomping, I was surprised at how my tongue helped me to eat. I thought I was gonna get a head rush from having my head down, but it never happened. I walked back in and saw that it was 10:00PM already, and the lights started to dim. I looked at the light switches and there were all these little devices on them. Must have been something else the Doctor had installed, I though to myself. The pack started to make their way upstairs, to our beds. I had my own room, but some of the other guys were paired up or were four to a room. I was lonely in there by myself. I couldn't sleep. I crept out and saw the other guys coming out of their rooms, and looking around. I knew what we were supposed to do. I confidently walked down the stairs and into the den. I nudged the blankets and pillows all over the floor and barked at my brothers. I wanted them to know I was welcoming them. They understood. They all came down stairs and we touched and licked and smelled each other for a while, eventually settling down in a big jumbled pile of dogs and falling asleep.
There was a tail in my face. There was a tail in my face and it was wagging back and forth. I knew I had gone to sleep with like, three dogs around me, know it felt like there were seven or eight around me. Fine, I guess its time to get up, I thought to myself. Still sleepy, I opened my eyes. Things were clear, the colors had come back. My arms were long again, so were my legs. My fur was gone. I had fingers again! I checked my butt, and was a little sad to see my tail was gone, too. I looked down and around me; I was the only one who had changed back.
All of Saturday and most of Sunday passed pretty normal. Well, besides that all my best friends had been turned into dogs and I had spent the last three days completely naked and felt fine about it all. I understood what the doctor had been talking about. I had filled up all the dog bowls with food and water when I woke up on Saturday morning, and the guys all went outside to eat. I went back inside and poured myself some milk and cereal. I had sat at the table and started to eat, when two of the guys came in and just stared at me. I had separated myself from them without even thinking. I left the spoon on the table and went back outside with my bowl of cereal. I set it on the deck and had breakfast on all fours, slurping up my food, just like my brothers. After that, I knew where the line was. I was responsible for my brothers, but I wasn't better than them. I ate with them, I never put on clothes, and I even went to the bathroom like them, and every night, I still slept with them in the big pile. I guess I was pretty lucky that our campus, and the frat houses around it were kinda secluded. Sunday morning I called the doctor and asked how much longer my guy's were gonna be pooches. He said they should start changing back tonight, but others could take a few more days, depending on how much food they ate at the camp and how much slime they were exposed to. He was right. He also told me that there were probably going to be some residual effects, as well as some Easter eggs left over for us to ensure we stayed close. He kinda laughed when he said that; I'm not sure what that means.
Sunday night I saw about a fourth of the guys start to change back. I had got an idea and brought out the camera. I showed it to them first, and I could feel that they were ok with it. I started filming the whole night as they started changing back. It took them a few hours. I guess I had been lucky to be asleep as it had happened to me. They changed back differently, though. Some of them lost all the fur first, but some kept it right up to the end. Or big human muscles bulged out on their small dog frames and some guys grew their human skeleton but with their small dog muscles still there. I'd have to stay Kent and Colin's way back was the weirdest. It was jumpy and sudden. They're hands and feet changed back first, and really fast. It was weird to see two dogs, walking on all fours with big, human hands and feet. Then their cocks and balls changed back, looking totally outta place on their dog bodies. Their ears shifted to the sides and changed back while their muzzles pressed in to a more human mouth shape, but their tongues was still long, and their jaws was jumbled with big dog teeth. Their eyes shifted back from brown to their blues. The rest of their legs changed back into human, and they slowly stood up, with parts of their body completely human and completely dog. Their feet, legs, cocks, hands, and parts of their skull were full human. But their torso, chest, ass, most of their arms and the rest of their head was dog. They sat down on the couch and tried their best to watch their bodies continue changing. The rest of their bodies began to turn back to human, except for their tail and their heads. They were touching each other now, they knew their transformations back were almost identical. Now we had their bodies back, but they still had a few dog traits. Their noses were dark and wet, and the still had tales but those started to shrivel and turn back.
I know what "residual effects" means now, he meant left-overs. I'm still pretty much me, but I think my muscles are a bit bigger. I've got just a little bit more body hair than I did before, but its not freaky hairy. I mighta gotten this hairy in a few years anyways, who knows? There's another pic of me and some of the guys at the bottom. Some of the other guys though, their teeth look sharper, or they got some more body hair. Everyone seems to be able to smell and hear a lot better than before. If someone starts throwing a baseball or football around we all get in on it, now, like it's the best game ever. Since not all the guys are back, we're still hanging around the frat naked, and we still eat outside with rest of the guys. Some of the guys' girlfriends had called and even dropped by. We told them we were having a frat thing for initiation and they bought it. Most of 'em were sorority girls anyways, so they knew how it was.
Oh, I gotta tell you about the first time one of 'em dropped by. We had been having breakfast out on the deck and the doorbell rang. So Colin and Kent got up and walked back through the house to answer the door. It was the girlfriend of one of our freshman brothers. As soon as we heard the door open, we heard her scream and run down the path and out to her car. The guys came back confused. I had to point out to them that they had just answered the door butt-naked with lucky charms and milk all over their faces and running down their bodies all the way to their pubes. The whole initiation-excuse worked perfect to help cover that up.
Tuesday morning came and I decided to call the doctor again. Some more guys had changed back since Sunday night, but we still had more than half to go. But I wasn't calling the doctor 'cause so many didn't change. See, my guys weren't just dogs anymore. Not totally. I had a whole 'nother problem now. I think this was one of the Easter eggs he was talking about.
Some of the guys are changing, just not how we thought they were gonna change. Yeah, I better call the doctor.